Crane Manufacturer in Ahmedabad : Crane Manufacturer in India : Crane Manufacturer in Gujarat
We at INOVIC CRM Manufacturers and Supplier of work quality of Crane with ISO 9001:2015 certification and brand name INOVIC CRM having its manufacturing facility at Ramol, Ahmedabad, Gujarat India with a supply base at diverse major cities of India i.e Mumbai, Pune, Indore, Bhopal, Raipur, Aurangabad, Jabalpur, Vadodara, Rajkot, Gandhidham, Mundra, Hyderabad, Chennai. The main characteristics in the development of INOVIC CRM Cranes are the realization of opportunities, taking advantage of innovations and technical know-how. Today we are considered to be leading manufacturer of EOT Crane, Jib Crane, Single girder crane, Double girder crane, Under slung type, Goliath crane, Semi Goliath crane, Monorail Type, Wire Hoist, Chain Hoist, End Carriage, Winch Machine , Crab.
Cranes Manufacturer in Ahmedabad, Gujarat, India
INOVIC CRM is one of the top rising manufacturer and supplier of Material Handling Equipments such as ETO Crane, Gantry Crane, Jib Crane, under slung Crane, Winch and Cranes so on. The firm is run by adolescent and active team backed by experienced engineers and our advanced technology manufacturing machines used for manufacturing the cranes as per IS standards and highly reliable. Our manufactured cranes are powerful and maneuverable and featured with modern technology that satisfies combined road and off-road operating needs on all kinds of sites. These cranes are very high on durability, functional life, outstanding performance, efficiency and construction. We will get your product where you need it; in the condition you need it, when you need it. We send our engineers to install crane anywhere in India. We are even engaged in offering customized cranes and specially designed to suit customer's specific requirements.
We are leading manufacturers and suppliers of Crane Wheel Assembly in Ahmedabad. These are fabricated from advanced technology and high grade material to deliver long lasting performance. Our company relies on the machinery and tools needed to complete efficient manufacturing processes within a specified time frame. We test our offered range of crane wheel assemblies on various parameters such as performance, design and durability so as to deliver a defect free range. We make continuous improvements based on process technology and design technology. We design and manufacture crane wheel assemblies for all makes and models of overhead cranes. Our assemblies protect against damaging forces such as misaligned raceways and heavy loads that cause premature tread wear, component failure and flange breaks. Our offered range of crane wheel assembly are highly appreciated by our customers for their features such as high efficiency, robust constructions, low maintenance cost, hassle free operations and longer service life. These are also customized according to the client's needs.
Features:
Meant to carry heavy load
International standards adhered
Designed to withstand adverse conditions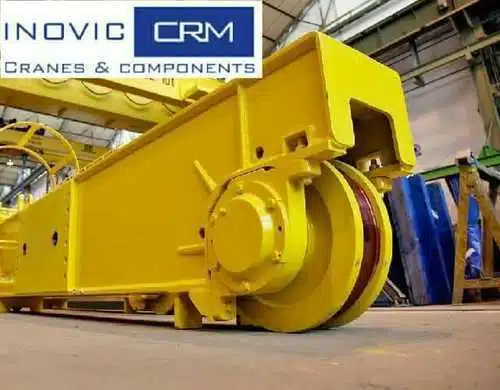 Crane Manufacturer in India
We are one of the leading Crane Manufacturer in India. As one of the leading crane manufacturer of high performance and reliable industrial cranes, crane components, we offer our customers a broad range of smart solutions for their material flow and logistics needs. We utilized premium quality raw material and new and cutting edge technologies. We are well developed and well organized, with all of the required specialized requirements, easy accessibility around the globe, and so on. We offer various ranges of cranes such as Electric Overhead Travelling (EOT) Cranes, Jib Cranes, Gantry Cranes, and Electric Wire Rope Hoist across India. Our offered ranges of Cranes are broadly used in water treatment, petrochemicals, power, ports and waste energy. We are one of the leading Crane manufacturers who has designed extra heavy duty cranes for steel mills, copper plant, aluminum plants and process industry and medium duty cranes for general engineering, automobile, workshop, construction industry, electrical sub stations, transformer industry. Cement industry, paper industry and so on. Offered ranges of cranes are highly appreciated by our customers for their features such as reliability, robust constructions, durability, long lasting service life etc. We also offer customized cranes as per the requirements of the customer's at the most affordable prices.
Overhead Crane Manufacturers
We are a leading Overhead Crane manufacturers in Ahmedabad, Gujarat, India. Overhead cranes, also known as bridge cranes or overhead travelling cranes are an essential piece of machinery in a number of sectors, including construction, manufacturing, and warehousing. These cranes are made to raise and move large loads horizontally inside a specific space. They are made composed of a hoist or tram that bears the weight and a bridge that travels over elevated runways while being supported by a structural structure. We are manufacturing the best quality cranes with the use of qualified raw materials. Overhead cranes have a number of benefits, such as effective material handling, increased safety, and the capacity to precisely lift objects that are heavy or irregular in shape. Single girder, double girder, and gantry cranes are just a few of the several varieties available, each with specific uses and weight capabilities. The selection of an overhead crane is a crucial one for companies trying to streamline their lifting and handling procedures since it depends on elements including the kind of products to be hoisted, the layout of the workplace, and safety standards. We are Supplying this best quality cranes with the best price in the market.