Wire Rope Hoist manufacturers, Supplier, Exporter in Ahmedabad, Gujarat, India
Electric Wire Rope Hoist is the main Element of a Crane System.
Electric wire rope hoists are designed for the modular construction of superior quality which simplifies repairs & reduces downtime during preventive maintenance.
The rope drum, gearbox, motor, brake, and panel can be quickly attended to.
Wire rope hoists are available in two options: one with trolleys and the second without trolleys.
Wire rope hoists comes with three different trolley options
Geared Trolley
Electrical trolley
Based on our huge experience in the sector, we are committed to the production, supply, and export of wire rope hoists in Ahmedabad, India. We offer a broad range of wire rope hoists, utilizing advanced technology and the best quality components. All these parts are inspected on various parameters after that and sent for the final dispatch. Wire rope hoists are installed in these winches for their wide use in the fire industry. Equipped with low-head and standard industrial motors, these winches are widely used in various operations in the engineering industry. The unwavering support of our technical experience has enabled us to meet the complex needs of different sectors. The products offered by us are used in all hi-tech warehouses of well-known companies. Our clientele in the Indian subcontinent is a testimony to the overwhelming response that our products have received. Also, we offer customized Wire Rope Hoist as per the requirements of the customers at the most affordable prices.
CAPACITY           : 1 Ton to 20 Ton
LIFTING               : 6 M to 20 M
HT Speed            : 4 mpm to 6 mpm
CT Speed            : 12 mpm to 18 mpm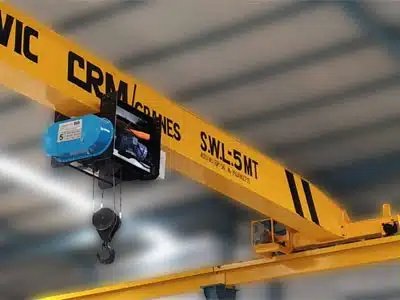 Electric Wire Rope Hoists
We have gained a significant and top notch position in this domain by manufacturing and supplying a premium quality assortment of Electric Wire Rope Hoists in Ahmedabad, India. We utilize the best quality components and advanced technology to design and developed Electric Wire Rope Hoist. This Electric Wire Rope Hoists is heavy duty electric equipment applicable for jagged environment applications. The offered range of hoist is one of the fastest moving ones. It utilizes an electric motor for lifting and another electric motor for lateral movement and can carry more than 20tonnnes of load under the monorail beam. This Hoist can truly deliver the preferred performance, especially in steel mills and chemical plants. Our range of electric wire rope hoists are highly appreciated by our customers for their features such as high tensile strength, optimal load blocking ability, robust construction and longer functional life and so on. According to the specification provided by customers, this Electric Wire Rope Hoist can be customized.
Features:
Compact design
Easy installation
Cost effective
Time consuming