EOT Crane Manufacturer, Supplier, Exporter in Gujarat, India
We are well established EOT Crane Supplier with types of cranes such as double girders, single girders and overhead girders in Gujarat and in terms of volume we are considered to be largest manufacturer in Gujarat. Our array of EOT Cranes supplied are developed using premium quality raw material such as Ms Sheets, MS angles, I beam, motors, brakes. These are perfect for power house cranes where these cranes are used for maintenance and services. Our high performance EOT crane ranges have need of low maintenance and can be customized as per the demand of clients. We are equipped with huge range of manufacturing unit for supplying EOT cranes that can handle a load of 250kg to 200 ton and beyond. Owing to technical pre-eminence over other EOT crane manufacturer in Gujarat with an in-house manufacturing facility, we guarantee competent material handling solutions for a number of industries including automobile, shipbuilding and other small-scale industries with best service and support to make sure our customers are satisfied.
Electric overhead traveling crane, EOT Crane Service in Ahmedabad, EOT Crane Parts Manufacturer, EOT Crane Spare Parts, EOT crane wheel assembly
Renowned EOT Crane Manufacturer in Ahmedabad
INOVIC CRM Engineering is the leading EOT Crane Manufacturer in India. We are engaged in manufacturing and supplying huge range of products that can handle a load of 250kg to 200 ton and beyond. Having years of expertise in this domain, we are recognized as a Renowned EOT Crane supplier in India with the brand name INOVIC CRM. We offering our customers with a customized solution for material handling our products to best-fit with your specific requirements.
Our range of EOT cranes includes the following:
Single girder crane
Double girder crane
Under slung type
Goliath crane
Semi Goliath crane
Monorail Type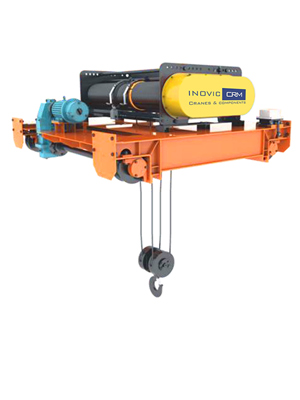 EOT Crane Service in Ahmedabad
With the continued support and sincere efforts of our experienced professionals, we have been able to provide our customers with the best quality EOT crane service in Ahmedabad. The offered services are widely appreciated by our valuable customers owing to their perfect execution and flexibility features. We work for all types and designs of industrial cranes, hoists, and port types of equipment. In addition, we work to enhance the safety and boost the productivity of our customer's operations in Ahmedabad. We have trained and experienced technicians to offer specialized services. We have huge experience in all major industries where we can successfully meet specific demands of various fields such as manufacturing industries, shipping yards, ports, construction companies, transport and logistics, and other fields which demand material handling and goods lifting cranes. We make sure that our all products are manufactured utilizing high-quality raw material and purchased from reliable suppliers, get the raw material and take it to the subsequent procedures. Our experts perform these services as per the specifications of our customers at the most affordable prices.
EOT Crane Supplier in India
We are one of the best EOT Crane Suppliers in India. We offer a broad range of EOT Crane which is an ideal material handling equipment for different industries and made under the strict vigilance of our engineers, who hold expertise in the domain. Our offered range of EOT Cranes is designed utilizing advanced technology and is equipped with proper safety features. These EOT cranes are utilized in construction sites, warehouses, loading docks vehicle maintenance firms, etc. We offer customized EOT cranes as per the requirements of the customers at industry-leading prices.
Features:
Heavy load caring capacity
Low maintenance
Easy to operate
Longer service life