SEW Crane Hoist Manufacturer
Crab is an equipment used in double girder crane for lifting and moving material from one place to another.
We offer a range of double girder crab machine to our clients. Our double girder crab is very durable even against heavy wear and tear. We test our products on various grounds before vending them and they are then known for their reliability and durability. Designed for continuous duty operation, also can be used in case of power failure. Indigenously developed. Mechanical parts manufactured as per is : 9507 tested at 25 % overload gears : en9 material, precise machined, gear hobbes & case hardened duly annealed.
Motor : foot mounted motor, operating on 415 volts, 3 phase, 50 hz ac supply breaking mechanism : screw & friction disc type/hydraulic thruster break guarantee : one year from the date of sale an f.o.r ahmedabad basis, for free repair, replacements of any part proved defective in material or workmanship.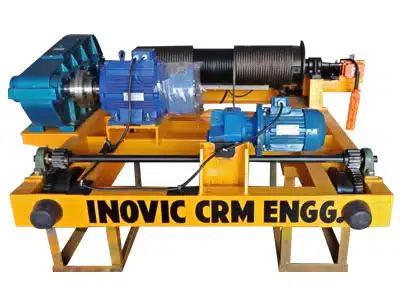 Open Wire rope Hoist Crab
IS 3177/IS 807(For Design, Manufacturing & Testing)
Capacity: 5 Ton to 50 Ton
Lift: 6 Meter to 20 Meter
Gearbox: Local Inovic Make
Break: Disc Break/ Thruster
Motor: Stallion/Neptune/BBL
Contactor: Schneider
Panel: (2 No's For Up-Down 2 Contactor For CT)